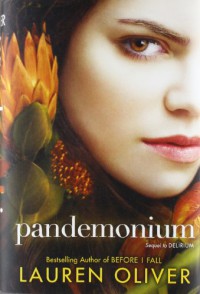 I enjoyed Pandemonium. Truth be told, I liked it even better than Delirium. I liked how each chapter alternated between the past (right where Delirium had ended), and the present (months later).
I also thought Lena grew up a lot in this book. She was borderline annoying in the first book with all her whining. But having gone through the loss of her "old live" and everyone in it, and also having to learn to survive in the wilds, it really matured her. She was a very strong character in this book, and I liked her so much more for it. There were a bunch of new characters in Pandemonium, which was awesome. I really liked, pretty much all of them, Raven, Tack and especailly Julian. Even though I was still missing Alex, I couldn't help but to warm up to Julian. He was just as confused as Lena was in the first book. It was quite nice getting to know him.
I found that the plot twists were, yet again pretty predictable, but I still thoroughly enjoyed the story anyways. I can't wait to read the next book!! Seriously, I really don't know what's in store for the next installement....and I like that! I look forward to seeing how everything works out!